Build Faster and Innovate Smarter with No-Code
Logotec App Studio
is a no-code platform to create advanced business applications for practically all operating systems (Windows 10, Android, iOS, macOS) and devices 
… tens of times faster than using traditional methods
… completely without programming
What is Logotec App Studio?
Solutions are created completely without programming (coding)
A solution is defined once (not for each operating system separately)
After a solution is defined, the cloud-service automatically generates native applications for all devices (computers, tablets and phones) working under Windows 10, Android, iOS and macOS (these are not "browser" solutions)
The time needed to create solutions (compared to traditional methods) is reduced from months to days
No programming knowledge is required. It can be used not only by programmers, but also by IT consultants or "power users"
It can be used to create
It can be used:

both for creating dedicated "tailor-made" solutions,
as well as to create systems sold repeatedly (they are then distinguished by easy and quick configurability and that they work on all popular operating systems and devices)

The solutions created work online and offline and are "inherently" multilingual
Logotec App Studio is offered as a cloud service


lgolebiewski@nameit.com.pl
Logotec Group helped us overcome a key barrier which was creating an application prototype. Two business acceleration programs got interested in our application, but in the end, unfortunately, we were unable to obtain funding for its development. Thanks to Logotec Group, with a ready-to-use prototype and market tests we can look for an investor, which significantly strengthens our starting position. Participation in the Logotec campaign was a bull's-eye for us because it has significantly accelerated the development of our start-up, where, by combining many years of experience of business advisors and application development skills, we will support our clients with such solutions.
What is Logotec App Studio good at?
Logotec App Studio empowers businesses to quickly turn ideas into applications. It makes them more efficient, informed, and productive. By using Logotec App Studio, anyone — regardless of technical background — can quickly create business apps they can use and share with others. Find out why Logotec App Studio is a free and open solution and ask about DEMO.

Contact me! I will help you!
Tell us what solution you want to build and we will tell you how best to use our software for this.
Advantages of Logotec App Studio in comparison with traditional programming
After defining the solution, Logotec App Studio automatically generates native apps for all devices (computers, tablets, and mobiles) with Android, iOS, Windows 10, and macOS. With Logotec App Studio, your efficiency will increase several times.
Prototype development time
5%
Application development time
12%
Cost of creating solutions
15%
Benefits of using Logotec App Studio are visible right away. The time needed for creating a prototype shortens from weeks to hours. The amount of time necessary for building ready-to-use apps decreases from months to days. There is no need to hire a team of experts, so the labor cost is significantly lower. All of that means that the investment risk is relatively low due to prototypes being generated ad-hoc..
Traditional methods and Logotec App Studio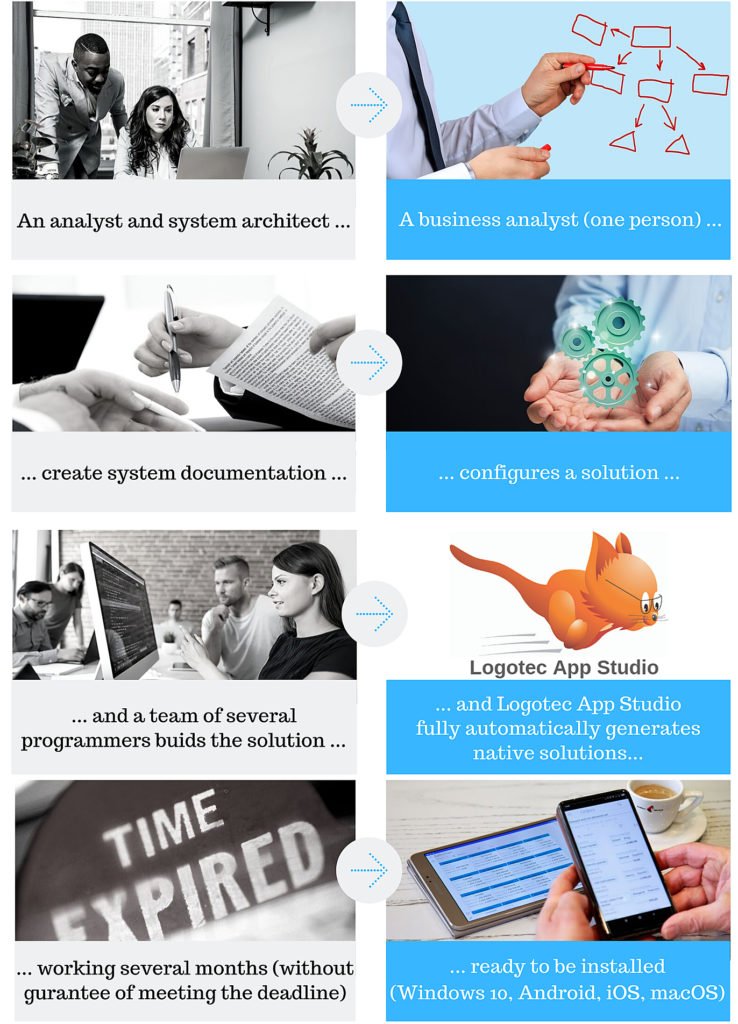 How can you benefit from Logotec App Studio?
Our client apps
With Logotec App Studio, our customers build their own solution, which they can
publish in Microsoft Store, App Store for iOS or macOS and Google Play.
Traditional approach
Logotec App Studio
Implementation team
A team of professionals
One person
Required competencies
Extensive programming experience
(Windows 10, Android, iOS, macOS)
Programming skills not required
(e.g. business analyst)
Development time (prototype)
2-3 months
2-5 days
Cost (prototype)
>> 200 man-days
2-5 man-days
Development time (final solution
(Windows 10, Android, iOS, macOS)
A few months
A few days
Cost (final solution)
(Windows 10, Android, iOS, macOS)
>> 1000 man-days
A few man-days/man-weeks
Modification
Difficult
Time-consuming
Expensive
Minutes-hours
Designed for easy modifications
Investment risk
Very high
(among others because of the cost of the prototype)
Minimal
(prototypes generated ad-hoc)
Last chance! Let us now how we can help!
Click on the button below and arrange an interview with our expert. We will help you to design your application.